Millions of people all around the world search for different hacking apps every month. Everyone has his own purpose to download hacking apps for Android and iPhone. For example, parents need such apps to monitor their kid's activities.
Similarly, employers want these apps to keep their eye on the activities of the employees. If you are suspicious about the doings of your spouse, these apps can help you to reveal the truth.
There are hundreds of hacking apps available on the internet. Most people don't know how to choose a suitable app that fulfills their all hacking requirements. If you are one of them, this article is for you.
I have compiled a list of top 5 hacking apps for Android with no root for your ease. You might want hacking apps for the iPhone, the good news is that these apps are also compatible with iPhones. Let's take an overview of all these apps one by one:
Part 1: JJSPY – The Most Robust Hacking App For Android with No Root
After reading about JJSPY, you will know why I am putting this app on the top of the list. JJSPY stands out among all hacking apps due to many reasons.
First and foremost, it contains many exclusive features that are missing in all other apps. Second, it is available at an affordable price. Third, it comes with the most intuitive user interface. A person with no technical skills can easily use this app.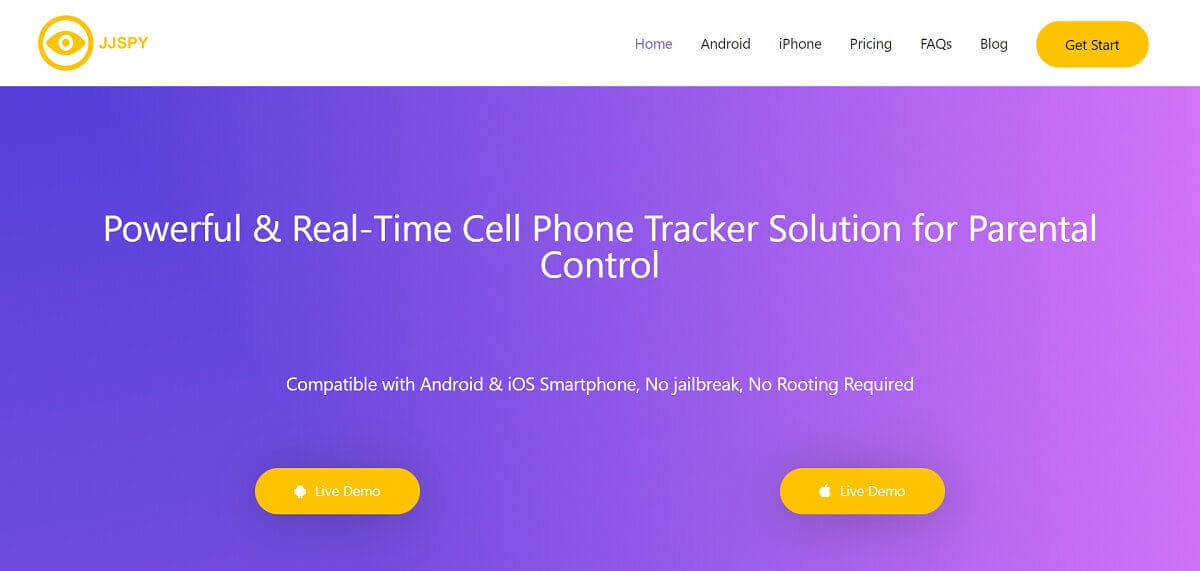 Exclusive Feature of JJSPY to Hack Android Apps
Below are some hot features of JJSPY:
Live Cameras Streaming: This feature allows you to turn front and rear cameras on and off to monitor real-time activities.
Live Screen Streaming: You can live stream the screen of the targeted device to see what's going on there.
Photo Capturing: You can't only monitor activities using front and rear cameras but also take photos if necessary.
Screenshot Capturing: It allows you to take screenshots of the currently active app.
Call Recorder: The JJSPY app allows call recording using this feature.
Live Microphone: By turning the microphone on, you can record the surrounding sounds remotely.
Instant Messaging Apps: The JJSPY app also allows you to monitor the activities of almost all instant messaging apps including WhatsApp, Snapchat, Skype, Line, and Tumbler.
How to Hack Android Phone Using JJSPY?
There are two basic reasons to hack an Android phone. First, people hack android phone for accessing all data i.e. photos, text messages, call logs, and browser history, etc. Second, they want to steal usernames and passwords of different apps on smartphones.
JJSPY is one of the most powerful hacking apps for Android. It helps you to hack both types of things. This app helps you to access all data including text messages, location history, and call logs, etc. Similarly, you can also steal the username and password of different apps using JJSPY.
JJSPY contains built-in features to access all types of data. So it is a piece of cake to hack such data. However, if you want to steal usernames and passwords, you need a tool called a keylogger. Don't worry, the app comes with a built-in keylogger tool.
A keylogger is a tool that keeps the record of all pressed-keys on the keyboard. And, it stores all the pressed-keys data in a separate file. When a user enters a username and password for signing in, it captures that information as well. JJSPY makes hacking too easy! Isn't it?
Why Choose JJSPY?
JJSPY comes with many exclusive features that no other app contains. Here are 3 important reasons to choose JJSPY:
Feature Set: JJSPY is a complete hacking app that contains almost all spying features. No other app even gives a tough competition to this app.
Customer Support: You can take any type of help 24/7 and support will be readily available. The JJSPY team doesn't take much time to resolve your issue.
Price: It is available at the lowest rate. If you compare its features and price with the features and price of other apps, you will find it very inexpensive.
Stunning features, awesome customer support, and the lowest price make JJSPY one of the best choices.
Part 2: iKeyMonitor
iKeyMonitor is one of the renowned Android hacking apps in the market. It is a complete hacking app enough to track every bit of information on the targeted device. If you want to hack a smartphone of your spouse or kids, it is another impressive mobile hacking app.
It falls in the category of text hacking apps because you can hack all types of instant messaging apps. You can hack WhatsApp, Line, Messenger, KIK, and Skype, etc. It also contains a powerful keylogger that helps you to hack all applications. In addition to this, you can also monitor the real-time location of a targeted user, browsing history, and call logs, etc.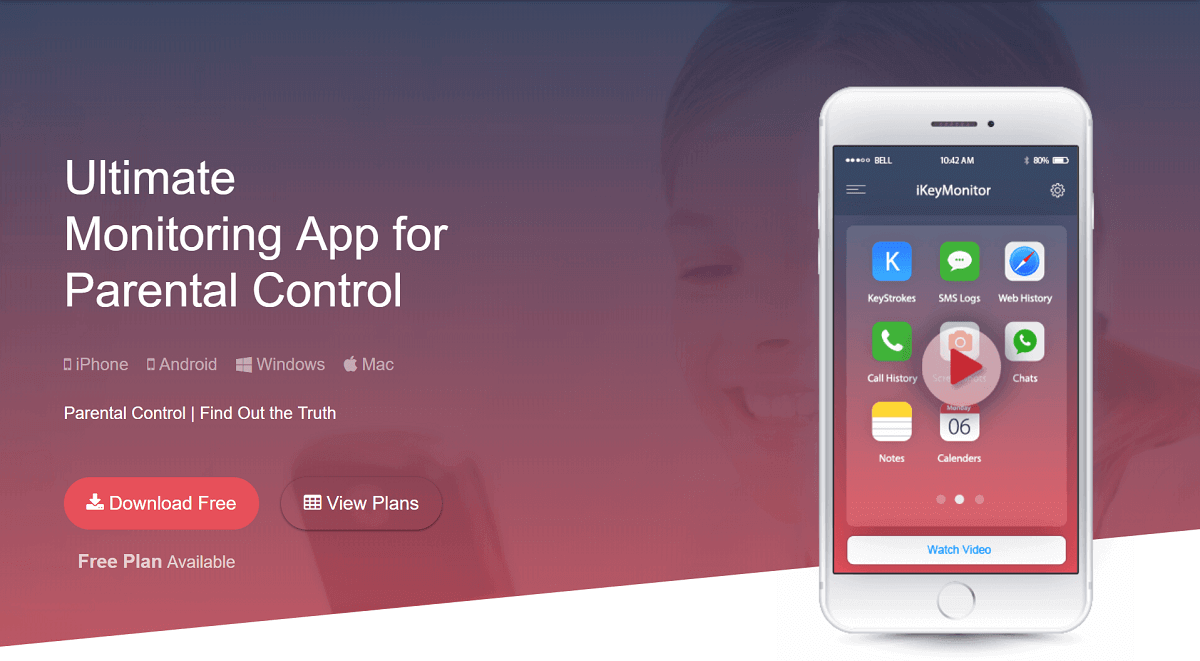 Pros
It is a fully functional hacking app for Android.
iKeyMonitor is also available for iPhone and Windows users.
You can control all apps remotely using this app.
You can watch the complete demonstration of all features before buying it.
Cons
It comes with a limited call recording and surrounding capturing features.
All features are not root or jailbreak free.
Customer support is not readily available most of the time.
Part 3. FoneMonitor
If you are looking for an app that doesn't need rooting, FoneMonitor is a reliable option for you. This app is a fully functional hacking app that covers all aspects of hacking. Once you will have to access the targeted device physically for installation. After proper installation, you don't need to access that device physically again.
FoneMonitor comes with many incredible hacking features. For example, you can hack the cameras of the targeted device using this app. You can also hack the gallery, call logs, text messages, and browsing history. Stealth mode makes it 100% secure and undetectable. Here are some pros and cons of FoneMonitor:
Pros
You even don't need to write a single line of coding to hack Android phones.
No need to root or jailbreak the device for proper functioning.
It doesn't require technical skills to use this app.
Although the trial version is not available, you can watch the demonstration.
Cons
It is quite an expensive app based on its features set.
It comes with a limited call recording feature.
The desktop version is not available.
Part 4. TiSpy
It is one of those Android hacking apps that is available for the computer. So if you want to hack a desktop, you can use TiSpy. No app can detect its working because it works in a stealth mode. This app keeps working in the background but no one even becomes suspicious. Because this app doesn't drain the battery a lot. Plus, it also won't take much space on the storage.
The app contains more than 25 spying or hacking features. You can hack the gallery to watch videos and photos. It also helps you in hacking call logs, text messages, social media apps, browser, and Wi-Fi history. It also contains a keylogger features which helps you to hack all social media apps.
Pros
TiSpy contains 25+ hacking features to hack Android smartphones.
You can tack screenshots and capture photos using this app.
It offers a 2-day free trial for your contentment.
TiSpy is a cross-platform app available for Android and computers.
Cons
The user interface of the app is not intuitive and easy to navigate.
TiSpy is not compatible with iPhone so you can't hack iPhones using this app.
You can't hack all instant messaging apps.
Part 5. Cocospy
Cocospy is another one of the most powerful hacking apps for Android with no root. Everyone knows that hacking is the toughest job. Hacking is not for everyone. However, Cocospy has made hacking very easy. You can hack any Android or iOS device in no time. Above all, you don't need to write even a single line of code to hack different devices.
This app is for parents, employers, and spouses. Anyone even without knowing the ABC of the computer can use this app. You can hack text messages of all instant messaging apps. So you can consider it one of the text messages hacking apps. You can also hack the gallery, Wi-Fi, and browsing history.
Pros
You can steal usernames and passwords of instant messaging and social media apps.
Cocospy works in a hidden mode that makes it working undetectable.
It contains almost all hacking or spying features.
You don't need to access the targeted phone physically every time except once.
Cons
It doesn't maintain the backup of deleted data.
This app is quite expensive.
Many features have limited functionalities like surrounding voice recorder.
Frequently Asked Questions
When people hear about hacking apps for Android no root, there comes a lot of questions in their mind. Here I am going to answer some of the most frequently asked questions:
Do I need technical skills for hacking an Android device?
No technical skills required at all. As technology is getting evolved, you don't need to write any line of code to hack a device. All you need to purchase a hacking tool and you are good to go!
Why choose paid apps if there are plenty of free apps available?
Yes, there are indeed plenty of free hacking apps available on the internet. But you will face many problems when using those apps. First of all, the majority of the free apps don't work at all so using them is a waste of time. Second, they come with very limited features and can steal your precious data. So I suggest you don't go with free text hacking apps.
What to consider before purchasing a hacking app?
Many people consider 3 important things before purchasing an app i.e. features, price, and ease of use. I advise you to look at the features of an app. If you can afford a good budget app with excellent features like JJSPY, you should go with that.
Can I hack a smartphone without installing any of the apps?
You will commonly find such claims in numerous blogs that you can hack smartphones without installing any software. It's impossible to hack a device without any app. So don't go with any app that claims like that.
Do I need to access a targeted device physically for the installation of this app?
Yes, you will have to physically access that device one time you want to hack. After successful installation, there is no need to access that device physically anymore. You can remotely access all the information by logging into your account.
Is it possible to hack multiple devices with a single subscription?
You can't install an app on multiple devices for hacking unless the app specifies it. Many apps give a discount when you purchase another subscription of other devices.
After installing a hacking app, how can I get hacked data?
The app starts uploading data on a remote site after proper installation. You can log in to your account via any internet-ready device. So you will find everything there on a dashboard.
If I am not satisfied with the app?
Some hacking apps for Android no root provides a complete demonstration to its customers. You must watch that demo and carefully examine different features. After your contentment, you should make a purchase. However, if you are still not satisfied, customer support is always there to help you!
Wrapping Up
You can find hundreds of paid and free phone hacking apps for Android on the internet. All applications are not suitable for you. Because some apps are not affordable and some don't contain required features. Similarly, you shouldn't go with free apps because they don't work at all and a waste of time.
Our list contains the top 5 hacking apps for Android with no root. All these are paid apps and available at an affordable price. If you ask for our recommendation, we highly recommend you JJSPY. Because you will not find such amazing features at the cheapest rate in no other app.