It is a fact that the internet is a bane and boon at the same time. As a bane, it is an incredible source to connect people remotely. It is an ocean of information for researchers, students, and others. However, it can be the bane for kids who waste a lot of time on phones.
As we know that, almost all instant messaging apps use the internet for communication purpose. People visit hundreds of sites every day and explore different types of content. Everything is available on a single click on the internet. So parents are very concerned about their kids, especially teenagers.
Similarly, employees visit unnecessary sites and waste a lot of time. Surfing unwanted sites can hurt the performance of a company. So it becomes necessary for parents and employers to track the activities of their kids and employees respectively.
You are here because you are facing the same problem! Right? Well, your problem ends here because this article helps you to track the internet activities on Android and iPhones remotely.
Let's talk about the top 6 ways for tracking internet activity on Android and iPhone:
1. JJSPY – One of The Best Internet Tracking Apps for iPhone and Android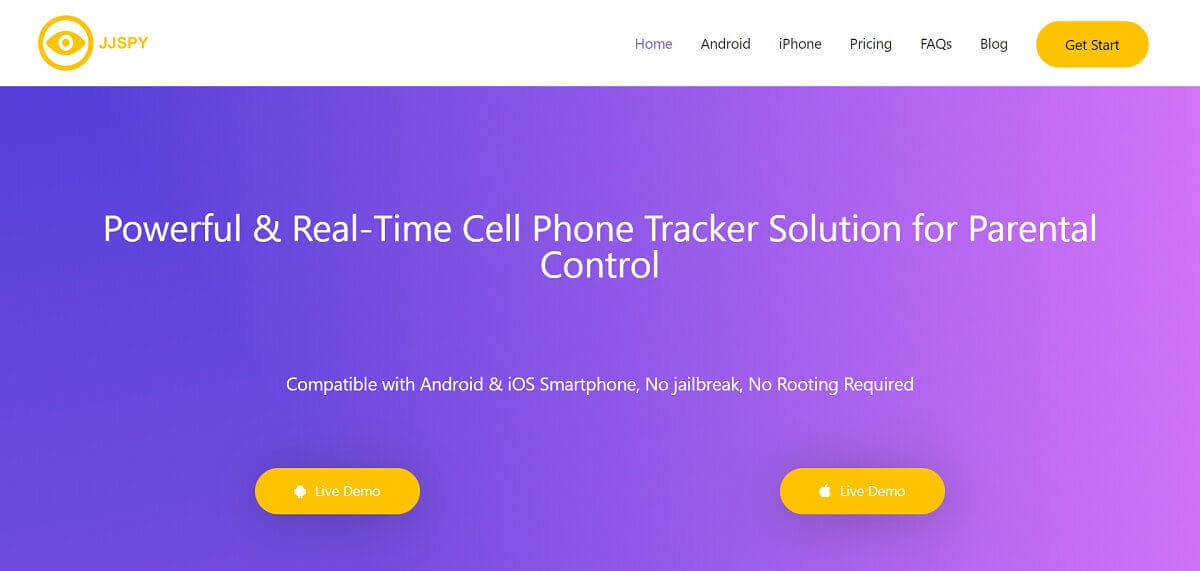 If you want to keep your children safe from the hazard of the online world, you must keep an eye on your kid's internet activities. Similarly, you can boost the performance of your employee by monitoring their internet activities. Well, JJSPY is an all in one internet tracking app for Android and iPhone.
JJSPY provides many internet tracking features to facilitate parents and employers. We will give you a brief overview of its features in the upcoming section of this article. Many reasons make this app number one in this ranking. The reasons are as follows:
What Makes JJSPY Stand Out Among All Tracking Application?
Here are the top 5 reasons that I consider worth to mention:
1. Feature Set
This is the first and foremost reason that makes the JJSPY number one app on this list. JJSPY comes with many exclusive features like Live Cameras Streaming and Live Microphone. We will give a brief overview of these features in the upcoming section.
2. Intuitive Layout
If the app contains many useful features but doesn't have a user-friendly interface, I will not go with that app. I am sure, you will too not buy that app. Because ease of use does matter when ranking different apps. JJSPY is a very user-friendly interface. Therefore, a person with no technical skills can use it like a pro!
3. Price
It is another deciding factor when someone makes a purchase. If an app comes with many stunning features and charges a little bit more, I will go with that application. Because I can't afford multiple applications for the same purpose. Plus, managing such apps is a quite difficult task. JJSPY comes with imposing layout, exclusive feature set, and available at the fair rate.
4. Customer Support
Good customer support can boost the conversion rate and vice versa. Why? You buy a product and facing a few problems when using that. You contact the customer support and they respond too late. What will you do? Will you purchase any service from that company? I will never go with a company with poor customer support. The customer support of JJSPY is readily available. You can contact them 24/7 whenever you want.
5. Security
Many apps that offer their services free of cost or too cheap really steal your data. Data security is very important. JJSPY is a reliable app that doesn't steal your data. Everything is between the target device and the dashboard. That's why I prefer JJSPY over other applications.
Exclusive Features of JJSPY APP to Track Internet Activities
JJSPY comes with many hot features that play an important role in tracking internet activity. Below are some of the remarkable features:
Browsing History: Browsing history gives you clear pictures of someone's activities on the internet. Therefore, JJSPY keeps the record of all browsing history.
Live Screen Streaming: This feature allows you to stream the live screen of a targeted device to check the real-time activities of a person. For example, if someone is watching something on the internet, you can check what's running on the screen!
Instant Messaging Apps: People use the internet for instant messaging apps for communication. JJSPY tracks all the text messages sent and received on these messaging apps.
Wi-Fi History: You can also check the complete Wi-Fi history of a targeted cellphone. Wi-Fi history also gives you a good picture of the user's activities.
Keylogger: It is another important tool that is quite often found in the internet tracking app for iPhone and Android. This tool keeps the record of all pressed keys on the keypad. So when someone types something on the browser for exploring, it will record the keystrokes.
There are plenty of other useful features available in the JJSPY app. For example, you can see complete call logs history with date and timestamp. You can live stream front and rear cameras to watch real-time activities. Plus, you can record calls and surrounding sounds using this app.
2. Hoverwatch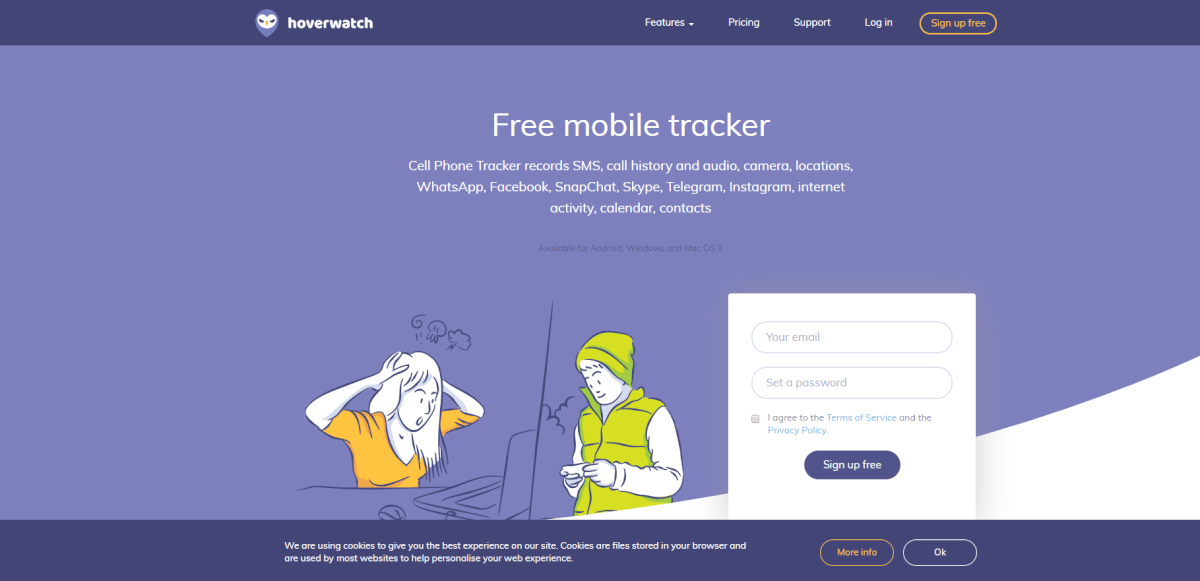 Hoverwatch is another one of the top-notch internet history tracking apps. You can track internet activities using this app. It contains almost all tracking features range from call history to browsing history. This app comes with more than 30 useful features. For example, you can check emails, visited websites, and other instant messaging apps history.
Pros
Hoverwatch is one of the few apps that maintain the backup of all data.
You can check the complete history of Wi-Fi, browsers, and location.
The app is available at a fair price.
You don't need technical skills to use this app.
Cons
There are limited call monitoring and live streaming features available in this app.
It has an old-looking user interface.
3. FlexiSpy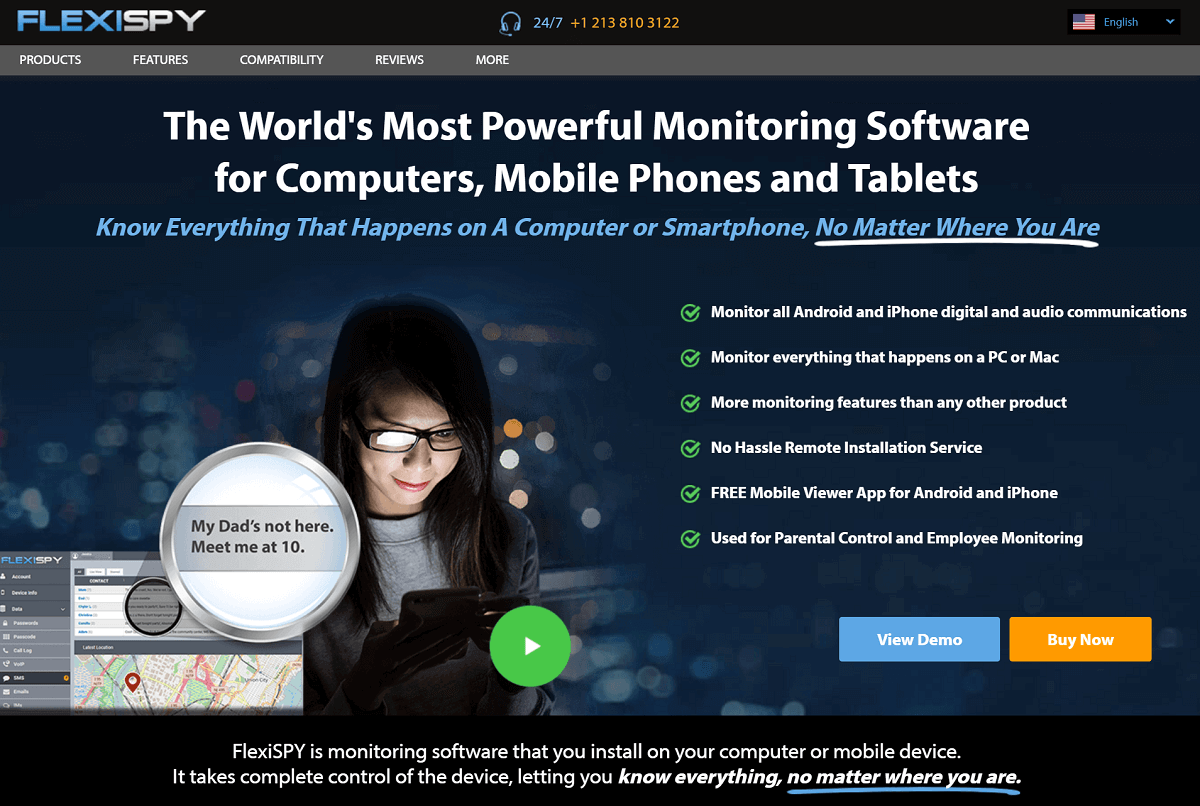 Parents don't take their kid's security casual. You can keep your children safe from the online hazard by monitoring their internet activities. Internet history tracking apps show you a clear picture of your kid's online activities. FlexiSpy is a robust internet tracking app for Android and iOS devices. It helps you to monitor call logs and text messages along with browser history. You can't only monitor call logs but also record calls.
Pros
FlexiSpy is an inexpensive internet tracking software.
You don't need to root or jailbreak your device.
It allows you to capture the screenshots of the currently active app.
You can monitor all internet and social media apps activities using this app.
Cons
Customer support is not readily available.
It doesn't allow you to filter text messages or browsing history.
4. Cocospy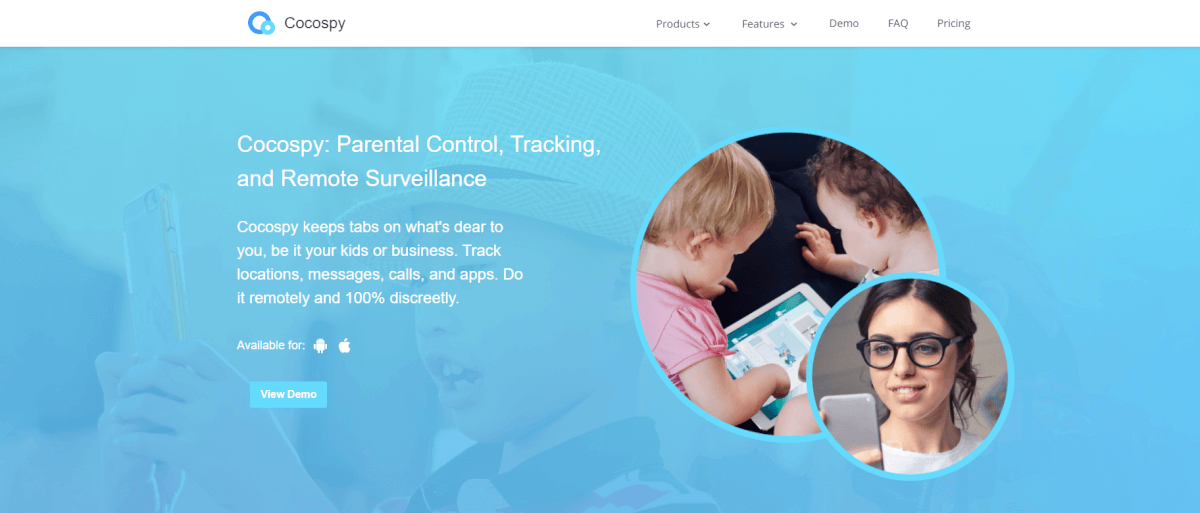 If you want some additional features along with internet browsing history, Cocospy can be one of the best options. Because this is a fully-featured spying app. It comes with more than 35 amazing spying features. Some of them are very advanced such as GPS tracking, call monitoring, and keylogger. However, all other features are almost similar to other spying apps. Here are some pros and cons of Cocospy:
Pros
The app contains a very user-friendly interface.
Cocospy is very reliable and secure internet tracking software.
Customer support is readily available.
You can access monitored data on a remote site without accessing the device physically.
It offers a live demonstration of software before making a purchase.
Cons
The app is quite expensive based on its feature set.
It comes with a limited call recording feature.
Spyic doesn't contain any exclusive features.
5. Appmia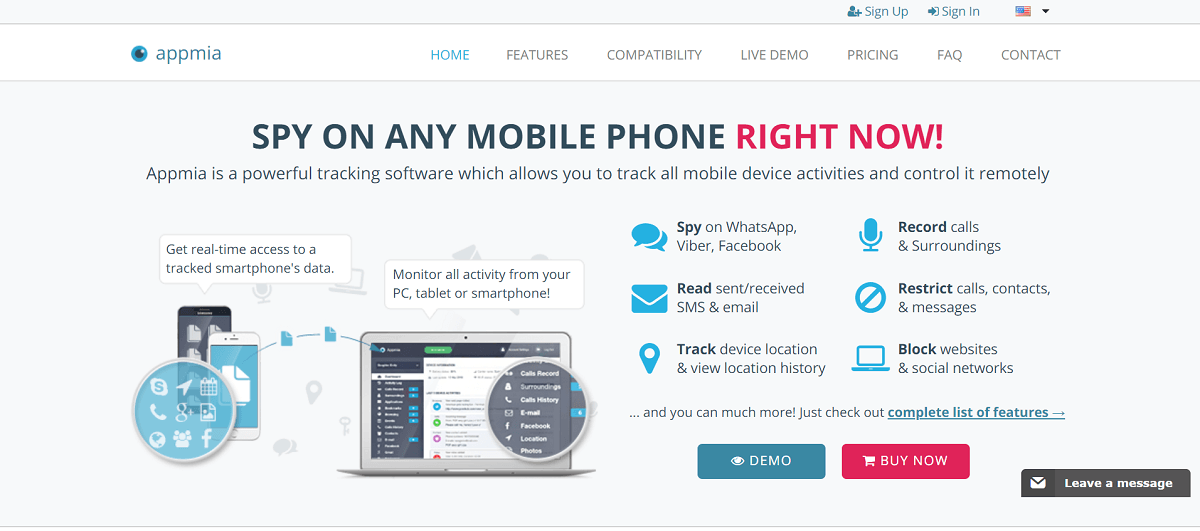 Appmia is another new but prominent name in an internet tracking software. It contains various useful features for monitoring your children, employees, and spouse. Besides internet tracking, it gives you access to call logs so that you can check incoming and outgoing calls, call duration with the timestamp. Besides, you can read text messages from all instant messaging apps. Let's have a look at the pros and cons of the Appmia:
Pros
You can check the sent and received emails using this app.
Appmia allows you to block unwanted apps and websites.
It also allows you to block unknown and unwanted calls.
This app makes tracking your internet activity very easy and straightforward.
Cons
The application doesn't have a very imposing layout.
It doesn't contain cutting-edge features like other popular apps.
This app doesn't allow you to stream the live screen and cameras.
6. Snoopza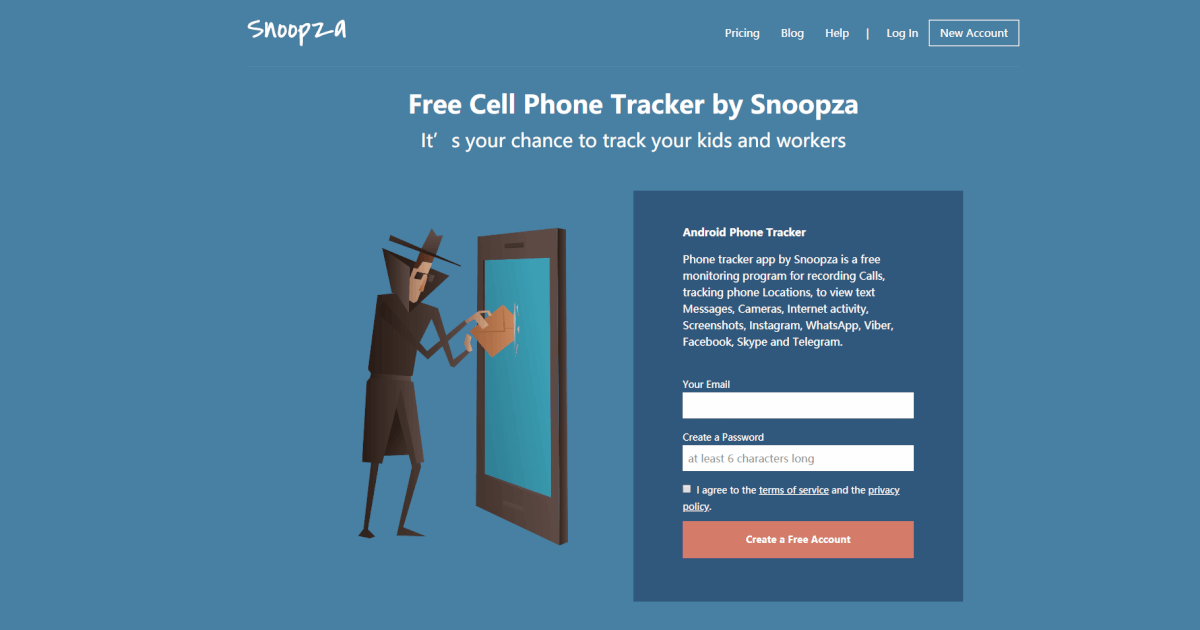 The Snoopza app is not as robust as JJSPY or FlexiSpy. However, it is still a very popular and useful app for tracking internet activity on Android and iPhone. For example, you can check all browsing history, used apps, and instant messaging apps. Nowadays, almost all apps need an internet connection for proper working such as social media apps, instant messaging, and emailing apps. Snoopza is capable to monitor all such apps. Here are some pros and cons of the app:
Pros
Snoop's layout contains an outstanding color combination.
It allows you to watch the complete browsing history.
You can track all instant messaging and social media apps using this app.
The app gives you the control of both front and rear cameras.
Cons
The app doesn't provide a demonstration before subscription.
Snoopza doesn't contain a good number of ratings.
Customer support is not readily available.
Frequently Asked Question
The majority of people have several doubts before purchasing any internet tracking app. For your convenience, I have answered some of the frequently asked questions.
Is it legal to use an internet tracking app?
The main objective of these applications is to protect children from the online world by monitoring their online activities. Similarly, employers can install these applications to track their employees' activities on company-given cellphones. So if you use them positively, these are 100% legal to use.
Are these apps available for Windows users?
There are no significant numbers of Window's cellphone in the market. Therefore, the majority of the apps are not available for the Windows platform. Some of them are only available for Windows with a limited feature set.
How to install an internet tracking app on my Wife's cellphone?
First of all, purchase a copy of the monitoring app. Then, you will have to get physical access to your wife's cellphone once to install that app. All apps have almost the same installation process. For example, when you purchase a copy of JJSPY, you will receive an email with detailed installation instructions. Therefore, you can install the app by following the instructions.
How does an internet tracking app work?
The working process of the internet tracking app is very simple and straightforward. After successful installation, they start uploading the targeted device data on a remote site. So you can access that data by logging into your account.
What if I am not satisfied with the internet tracking software?
Almost all applications provide the complete demo before purchasing the app. After purchasing an app, if you are not satisfied, you can contact the customer support.
Do I need to purchase a separate copy of the app for a new device?
In the majority of cases, you will have to buy a new subscription for a new device. Many companies give you a special discount when you purchase more than one app.
How to uninstall an internet tracking app?
Uninstallation instructions are not clear for the majority of apps. It's better to contact the customer support for uninstalling an app.
Is it possible to detect the working of internet history tracking apps?
Not at all, it is impossible to track the activity of tracking apps. If an app claims to work in a hidden mode, no app can detect that app. An app without stealth mode can be detected using different applications.
Wrapping Up
Tracking your internet activity is not a big deal nowadays. You can easily track internet activity using many apps even without physically accessing the device. These apps vary in their feature set and price. Some people prefer inexpensive apps. However, it's not a wise choice because you will miss a lot of information due to a lack of cheap apps features. You have read about different internet tracking apps so you can go with an app that suits you most. However, we suggest you go with JJSPY. It offers matchless features at an affordable price!