Cheating is surely one of the worst things one can do. It will not only break your trust but you will also not be able to trust anyone else. In today's world, there are many people who are cheating and it has become one of the common things. So, here we will see how you can identify a cheater and then we will see how to catch a cheater free. You can catch a cheater on iPhone or on android. So, without any more spoilers, let's begin the guide.
Part 1: How to identify a cheater
The first thing that you need to do is to find out whether or not the person is cheating. There are a couple of traits that all the cheaters share. If your partner is showing some of them or all of them, there are chances that he/she might be cheating on you. However, it just might be the chance, there is no 100% guarantee about it.
#1 Always on the phone
The first trait of any cheater is they are always on the phone. In the world of technology, no one can stay even for a while without getting a text from their loved ones. Therefore, if your partner is always on the phone even if you are with them, there are chances that they are cheating on you.
You can even check their online status in Whatsapp or any other social communication app. If they are online all the time, they will be talking to someone else.
#2 They do not listen to you
Ever happened when you are telling something important to your partner and you still don't get their attention? The reason here might be that they are chatting with someone else and hence they are not listening to you.
The same applies to face to face or in person, the person might be thinking about someone else and hence you don't get proper attention.
#3 They don't tell you the location
They always try to make an excuse when you ask where you are at. If they are cheating, they won't give you the exact location or they will try to give the gibberish location saying I am near to this or near to that. If this is for one or two times than it is surely understandable but if this happens every single time, you need to keep an eye on them to find out more.
#4 Change in Behavior
If you see a sudden change in behavior towards you, there are good chances that your partner is cheating. Talk to them about it. It might also be the work problem or something else that is giving them a headache. However, if this continues for a long time and they are not even ready to explain the situation to you then this is a trait which you should not neglect.
A little change in behavior over time is common but if your partner has a sudden change in behavior, this is a big problem. It is always recommended that you first talk to them about the problem to learn more about it.
#5 They start lying and don't let you use their phone
Lies destroy the relationship. If you think your partner has started lying to you about small things, you should see a bit in-depth. Also, if you found that your partner no longer lets you touch their phone, there might be something fishy about it which you can research a bit.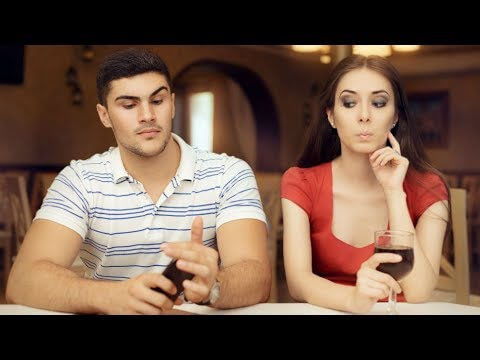 Lying always starts with a small thing. It is okay to lie sometimes but if they lie often on all the things, there will be something wrong. You can first try to talk about it with your partner. If nothing works, you can surely head over to the second part of our guide where we will see how you can catch a cheater easily.
Part 2: How to catch a cheater
Now that you know all the traits or the common behavior of the cheater, we will see how to catch a cheater free. The best way to do the task is y using catch a cheater app iPhone and Android. There is a catch a cheater app that is available on the iPhone as well as on the android phone. We are going to use that app.
The name of the app is JJSPY. The app lets you spy on any mobile phone with ease. Basically, it is a phone monitoring tool that you can use in order to catch a cheater. If you are searching for "catch a cheater app iPhone or android", you are at the right place.
With JJSPY, you can do a lot of things which will surely help you to catch a cheater free. We will also see a step by step guide in the next part. First, let's see some of the features you will get here in this particular tool.
Please note that these are the most common features of the tool. If your target person is using an iPhone, some of these might change. So, it is always better to check the features on the features page before you actually buy the product. You can also check the live demo of the product before buying it. This will help you to know more about the product and the working.
Live camera, screen, and mic stream
Half of you people will be convinced here that this is the best spying tool available in the market. With JJSPY, you can turn on the live stream of the target phone. You can turn on the camera, screen, as well as you can turn on the microphone whenever you want.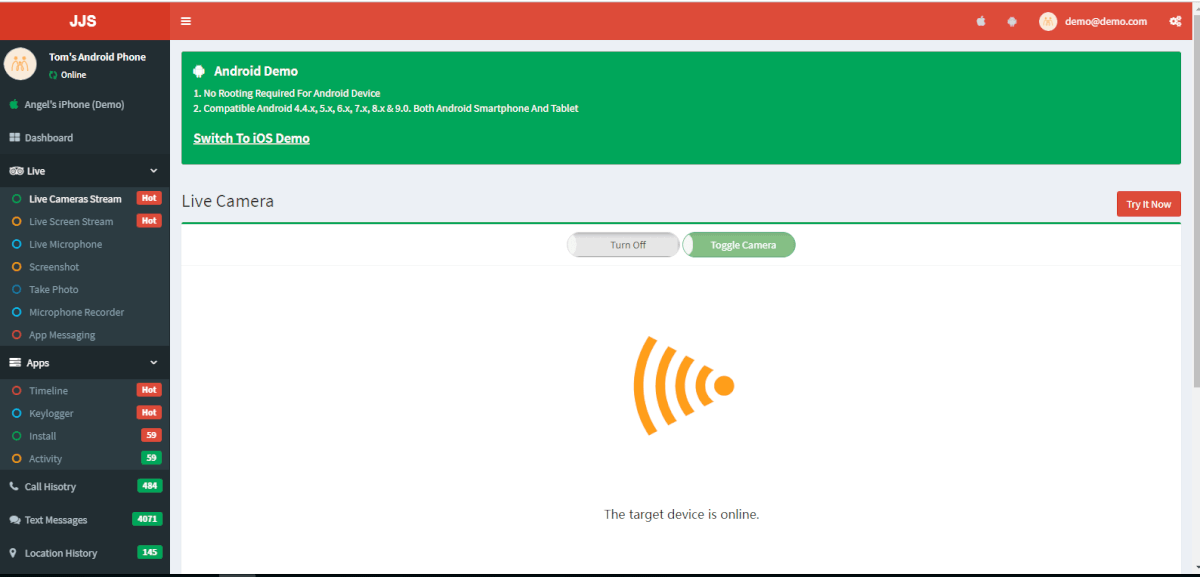 When we said you can turn on the camera, we didn't mean you can only turn on the back camera. You can turn on the front as well as the back camera whenever you want. If you want you can also capture a screenshot from that particular phone. All of these will be done without letting the target user know about it.
App spying
So, you think your partner is a cheater and he/she is talking to someone else on Whatsapp or Line? Well, you can quickly spy on these apps with JJSPY. You can see the entire conversation on your JJSPY account. If you are seeing that the conversation is going right now then you can also turn on the live screen stream. Furthermore, if you want some proof, you can surely capture a screenshot. You can see if which apps that are currently using.
Text, call, and contacts
You might think that what if the target person, i.e. your partner is using text messages to chat with other people. They might simply not be using any communication app but using the default text messages. Well, you can also spy on the text messages and call logs.
Moreover, if you want to check their contact list, you can head over to contacts option on your JJSPY account and you can pretty much do it from there too.
So, this will give you al the information you need.
Browsing and location tracking
They don't have any dating apps but what if they are using any websites to meet other people? That's why JJSPY provides browsing history. You can check the entire list of the website that the target person has visited. Moreover, if you want to know where they currently are, there is a GPS tracker that comes along with the tool. You can turn on the GPS tracker and see where they are currently.
These are a couple of features of the tool. There are many other features that are interesting enough to explore. Now, if you are curious about how to catch a cheater app and wondering how exactly you can do it then the next part is for you.
Part 3: Step by step guide to using Catch a cheater app
Now, let's see a step by step guide on how to use catch a cheater app. The steps are easy but they are little different for iPhone and Android. We will see both of them and how you can easily set up the JJSPY app and start using it.
Step 1: Purchase JJSPY
The first and the foremost step to spy on the cheater is to purchase the JJSPY. You will have to create an account at JJSPY. For that, you will have to purchase the plan. You will first have to choose the plan from the given ones. One is for the android and the other one is for the Apple device.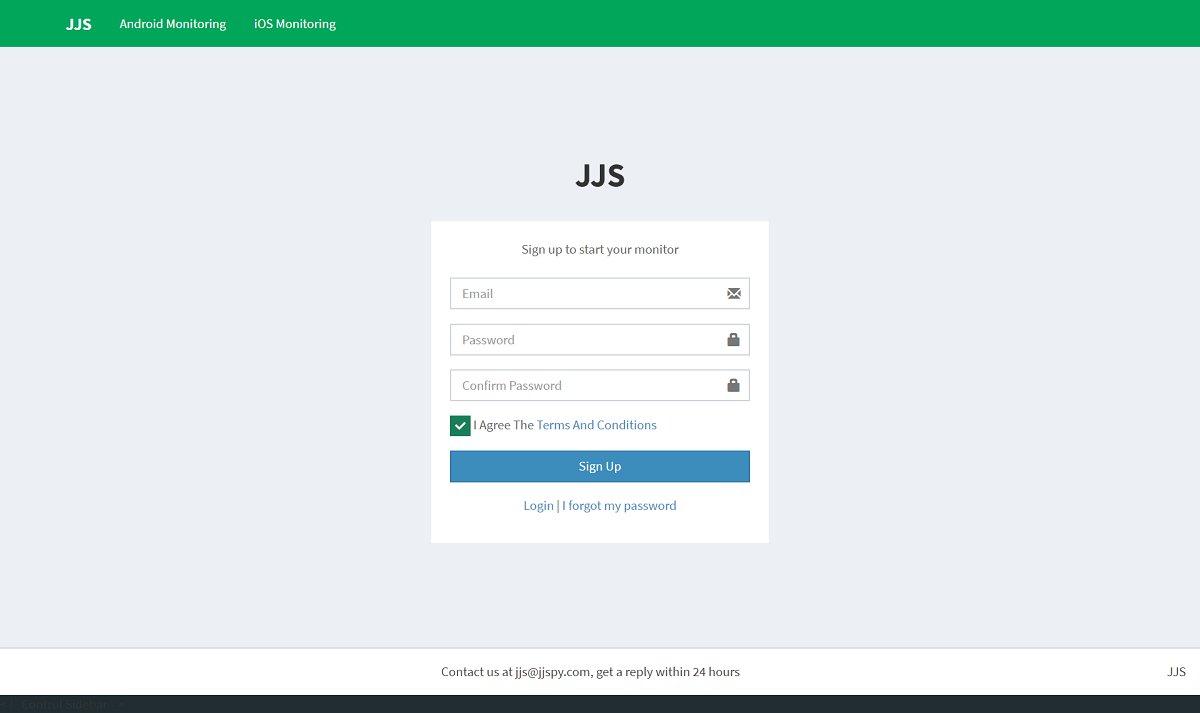 If your partner is using the android device, you can choose that one or you can choose the iPhone device if your partner is using iPhone or iPads.
Once you complete the purchase, you will have to be given the necessary details that you can use to log in to the account.
Step 2: Set up the tool
This is different for both android and iPhone devices. You will have to install an app if your partner is using an android device whereas if he/she is using an iPhone, you will need their iCloud details.
Steps to set up catch a cheater app android
Once you log in to JJSPY account, you will get a link to download the APK file
Download and install the APK in the target device
After installing, open the app and you will have to fill p certain details there. You will have to enter the JJSPY details once you open the page
Thereafter, exit the app and you are done.
The app will not be visible on the device once you exit it.
You can then proceed to the next step
Steps to set up catch a cheater app iPhone
Log in to your JJSPY account and you will have to then enter the iCloud details of the target user
Once you enter the iCloud details, you will then have to choose the iPhone or the iPad that you want to spy
This only applies if there are multiple devices connected with the iCloud
Once you select the device, refresh the JJSPY page
After a couple of minutes, you will be able to get the data of the iPhone or the iPad device.
That's pretty much it.
Step 3: Start spying
Now the next step will be to start spying the devices. You already got the data. When you log in to the account, you will see various sections right there.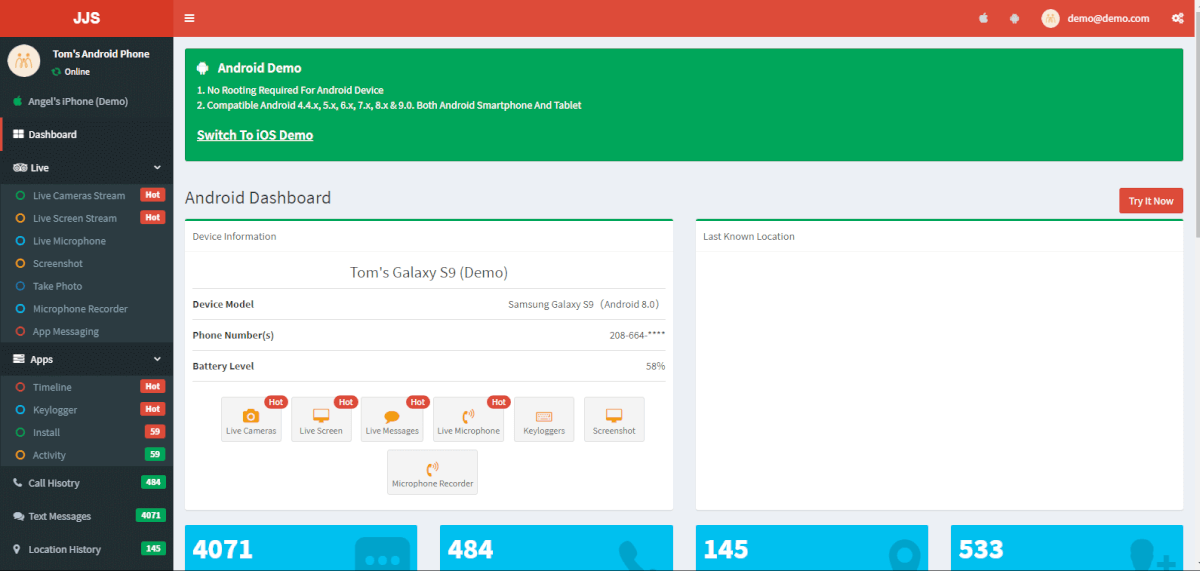 From there you will be able to spy on the person. For instance, if you want to get the details about their text messages, you can head over to the text messages section. From there, you will get each and every information that you want.
In the same way, if you want to read the Whatsapp conversation, you can head over to the WhatsApp or the apps section.
Feel free to check out other menus and you will find all the things right over there. The features are a little different for iPhone and android., This is because of the operating system. iPhone has more security compared to the android. Hence, there will be a couple of features that are only available for the android device and not for the iPhone.
You can check out the demo of JJSPY to know which features will be available for the iPhone. JJSPY has the working demo for both androids as well as for the iPhone. Feel free to check it.
Final words
To conclude, this is how you can identify if your partner is cheating on you or not. If you think they are, you can spy and monitor their device using the above-given steps. This is how you can set up catch a cheater app with ease. If you are facing any issues anywhere, you can surely contact JJSPY and ask them to solve it. They have an active help center which will answer all your questions as soon as possible. You can also check their knowledge base to know more about your query.