Most of the time wives are curious about their husbands' activities. However, there can be different reasons that you might feel sneaky about your wife and want to track her activities. Her behavior becomes totally un-understandable and rude with you due to some unknown reasons. In this situation, the husband can't understand the problematic behavior of his wife and start arguing with her that further leads to a disastrous situation.
Sometimes husbands don't directly argue with their wives and try to figure out the problem by using different means. One of the remarkable ways to apprehend the problem is to read the wife's cellphone. If a wife comes to know that her husband checks her cellphone, the case becomes much more critical and leads to the breakup.
So what is the best solution to overcome this problematic situation? There are two possible ways to resolve the issue. First, if the wife directly informs her husband about her problem, it is the most suitable way to demolish the issue. Second, husbands try to figure out the problem by themselves if wives don't tell anything. So what can be the best option other than hacking the cellphone of your wife?
Texting is the most popular and common mean of communication. The majority of people plan their activities and share their problems with each other on the text messages. If you somehow read your wife's text messages, you can obtain a pretty good picture of her problem. So instead of fretting your wife further, try to hack someones' text messages and understand her problems. Prove yourself a good husband by resolving her issues.
You might be thinking that how to read my wife's text messages? Definitely, it is a matter of entanglement. Luckily, it is not a big deal for hacking tools available excessively on the internet. It is a long list of software that makes you capable to read your loving or cheating wife text messages.
JJSPY app: the best app for reading your wife text messages
One of the most dominating apps to read your wife's text messages is JJSPY tracking application. It is a trustworthy app that provides secure functionalities at a fair price. It doesn't contain any virus or other harmful effects on the victim's cellphone.
An overview of JJSPY app
JJSPY is a matchless application that provides extremely powerful tracking capability to its users. No jailbreak is required to run this application. Furthermore, it requires no rooting. No technical skills are needed so anyone can utilize this application. An expert team of developers made it extremely user-friendly so there is no complexion in the working process.
After installation, the application uploads all text messages information to a remote website, where you can read this information just by logging in. You will find numerous other useful option that provides you the complete information about the user's cellphone.
The JJSPY app is the most efficient app. You will find no application matching with this inefficiency and features. When wife test message tone rings, you will immediately receive that text message remotely on your JJSPY account. So log in there in your account and read the wife's text message without accessing her cellphone.
Complete working of JJSPY message tracking app
JJSPY is a smartphone tracking application. It offers several phenomenal functionalities beyond the text messaging feature. It makes you capable to read text messages remotely without accessing the cellphone all times. You only need an internet-ready device that can be a smartphone or any other computer device. You only require a JJSPY app setup to start reading the text messages. Here is a complete guide to setup JJSPY app:
Prepare the setup of JJSPY app
First and foremost, you will have to set up your JJSPY app on the victim's cellphone. When this setup will be completed, JJSPY app starts to upload the complete details of text messages to the remote site. You are just three steps away to read text messages. Here are the 3 primary and essential steps to get started:
Purchase JJSPY App Subscription: You will have to purchase a copy of JJSPY app. This application is available at an affordable price. You can check the pricing plan of JJSPY app here at https://www.jjspy.com/pricing.html. If you are familiar with any other message tracking app, you will be a witness that the price of this app is very low as it provides stunning features.
Installation of JJSPY App: Installation process of JJSPY app is extremely easy just like its working. When you purchase a subscription of this app, an installation guide will be sent to you via email. You can easily install this app by following the straight forward instructions.
Start reading texts: You have successfully completed your installation process. The application starts uploading data on the site immediately. So just log in there in your account and start reading the messages.
How to read wife text messages with JJSPY apps?
After the configuration of JJSPY app, you are good to go. JJSPY app will grab your wife's all text messages and upload them to the website. Follow the forthcoming steps to read all text messages of your wife:
How to read wife text messages on Android devices with JJSPY App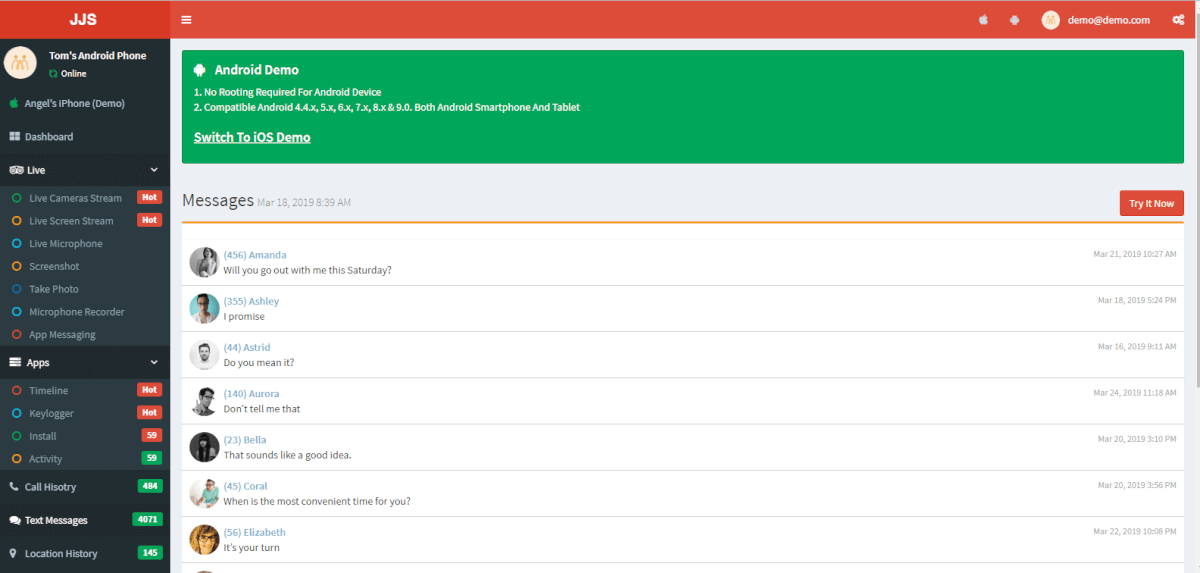 If you are an Android user, here is the complete method to read text messages:
Take your android device and login to your JJSPY app account.
After logging in, you will be redirected to a control panel. The control panel is also referred to as a dashboard.
You will find a lot of hot and exclusive features on the left menu. Look at the left menu, you will find a text message feature there.
Click on the text message option. The complete list of conversations will appear with the date and time stamp. You can see the total number of texts in every conversation.
Click any conversation, you will find all received and send wife text messages.
JJSPY app provides an App Messaging feature as well. You will find this option in the left menu of the dashboard. If you want to read the live text messages of all apps such as messenger, Line, and WhatsApp, you can click on this feature to read real-time text messages.
How to read wife text messages on iOS devices with JJSPY App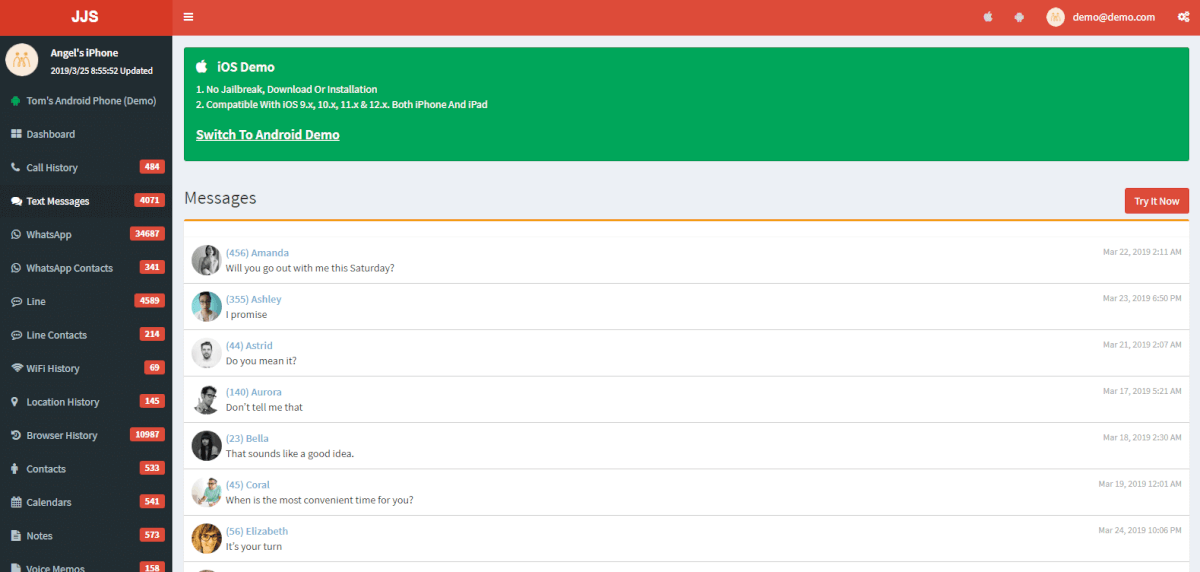 There is almost a similar method in iOS to read text messages with JJSPY app. Follow the following steps to read wife text messages:
After logging into your JJSPY app account, a dashboard or control panel will appear where you can find detailed information about your wife's cellphone. For example, you can see her location, battery status, and other necessary information regarding her activity.
In the left menu, you will find numerous useful options to track your wife's activity including text message option.
Click on the Text Messages feature. A complete list of your wife's conversation will appear. You were curious about your wife's activities, now everything is on your screen and in your read. Thanks to JJSPY app. Open any conversation without hesitation. You are completely secure.
You will find complete information about text messages with time and date stamp.
Furthermore, WhatsApp is the most popular app. To read the text messages from WhatsApp, just repeat these entire steps again.
You will find other numerous text messaging apps option such as Line in the left menu, click on that option and read the text messages to resolve the issue.
You can find the most contacted person by your wife by checking the total number of text on every conversation.
What makes JJSPY App the finest choice of everyone?
JJSPY provides all the incredible features that it claims to provide. This application works in stealth mode or in hidden mode so no one can detect it. The application is 100% secure and free from a virus so don't have any security risk. Many people go for some cheap apps that affect their security. Instead of benefits, that applications lead them to blunders.
JJSPY app doesn't provide only security but also several impressive features that no application can provide so far. Here are some exclusive features of this app:
Live Cameras Streaming: It is an exclusive feature of JJSPY app. There is no application so far that provides this feature. You can live to watch the entire activities of your wife with your own eyes. What else you want?
Live Microphone: This option allows you to hear what your wife is talking about. This feature allows you to turn on or off the microphone at any time to listen to the conversation of your wife.
Live Screen Streaming: You can watch real-time what's going on your wife's cellphone's screen? If she is texting or making any video call to any person, you can stream live on your wife phone's screen. Amazing! Isn't it?
Therefore, these are some incredible features of JJSPY app that for sure will impress you. So we suggest you go with JJSPY app by spending some extra bucks for something better. Just give a try to this application, JJSPY will not disappoint you as like its thousands of other users.
You may also like to read: How to Track My Wife's Cell Phone's Calls Remotely