Text messages show a clear picture of someone's activities on smartphones. Because the majority of people spend their entire time texting each other. You even don't know what your children and spouse are doing on their cellphones.
No one is safe, especially teenagers, from online risk due to advanced technologies. You might consider that your children are busy chatting but they might be busy in sexting. Similarly, your spouse can also cheat you. How can you stop them without knowing their exact activities?
Therefore, it becomes crucial to monitor your kids' and spouse's activities. Do you want to read text messages of your children or spouse? If so, tracking is not a big deal nowadays. This guide introduces you to the top 6 spy text apps to read text messages. So keep reading this article…
How to Spy Text Messages of Someone Without Them Knowing
There are two possible ways to access someone's cellphone for reading text messages. The first one is to access a cellphone physically. Are you ready for this method? I know that you have already rejected this method!
The second method is to read someone's text messages remotely without accessing their smartphones. This method suits you the most. And, I know that you are looking for such methods! Right?
Spy Text Message Apps Free
You can find both paid and free apps on the internet. However, free text message spy apps don't work at all. All of them are either spam or a waste of time. Instead of benefits, you will lose your important data. The majority of free apps contain viruses that can interrupt the system's files. Therefore, I caution you that don't go for free options.
Contrary to free apps, paid apps are reliable and provide acclaimed features. Plus, all apps are not too expensive. So you can easily afford most of the paid apps. That's why I suggest you to utilize paid apps to save your time and data.
In this article, I have enlisted the top 6 spy text apps to read text messages remotely. The JJSPY app is one of the unique apps. So I will mention it in the first part and explain its useful features in detail. Similarly, I will mention the next 5 text messages spy apps with pros and cons in the 2nd part. Let's get started…
Part 1: JJSPY – One of The Best Text Spy Apps to Read Text Messages
JJSPY is one of the most prominent apps to read text messages remotely. It gives you full access to the text messages of all instant messaging apps such as WhatsApp and Messenger. Besides text messages, the app is loaded with many other useful spying features.
The JJSPY app works in a stealth mode i.e. hidden mode. A third-party app can't detect its working. Plus, it nether needs rooting nor jailbreak for proper functioning. It comes with a keylogger which is a hacking tool. So you can't only read text messages from messaging apps but also hack these applications.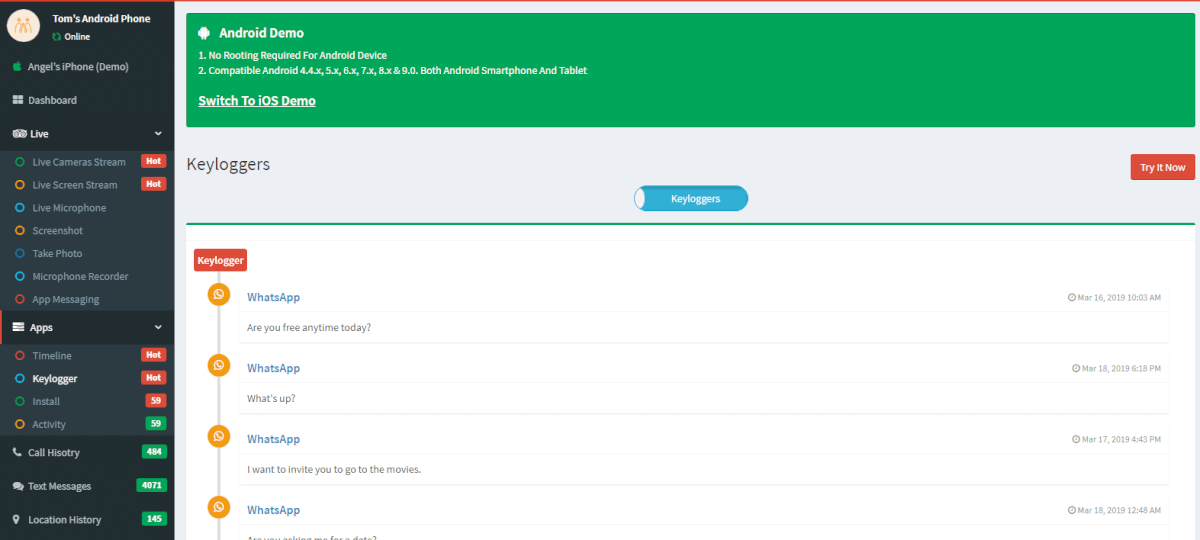 Incredible Features of JJSPY
JJSPY comes with more than 30 splendid spying features. Let's talk about some useful features briefly:
Text Messages
If you want to spy text messages without the target phone, JJSPY is for you! It contains a Text Messages feature that gives you full access to all conversations on the cellphone. Plus, you will see the total number of messages in the conversation.
App Messaging
This is another impressive feature of JJSPY. With the help of this feature, you can read the real-time conversation of all instant messaging apps including WhatsApp. You can take screenshots of specific text messages.
Live Screen Stream
This is an exclusive feature of JJSPY that allows live streaming of the cellphone's screen. If you want to watch the activity of your children or spouse on a cellphone, turn this feature on. So if they are busy chatting, you can read the entire conversation.
Live Cameras Stream
Although this feature doesn't help you with text messaging, it is very useful. You can turn front and rear cameras on and off to keep your eye on your spouse or kids' activities.
Live Microphone
This is another stunning feature that helps you to listen to the live conversation by turning the microphone on. You can even record this conversation by pressing the Start Recorder button. JJSPY allows you to watch entire call history i.e. duration, incoming and outgoing calls with timestamps.
How to Spy Text Message Without Target Phone?
Good things impress everyone. JJSPY was the only app that impressed me a lot. I am sure that you will be impressed as I was. After giving a brief introduction, I am not going to leave you hanging like that. I will guide you from purchasing to reading text messages on Android and iPhone.
How to Spy Text Messages Using JJSPY
You are only 3 steps away from reading the text messages using this incredible app. Here are the steps below:
Step 1: Purchase Spy Text Apps to Read Text Messages
First and foremost, you need to buy a copy of JJSPY. Visit the official website of JJSPY. JJSPY provides a complete demonstration of all features. So you can watch that before purchasing it.
The app is available for Both Android and iOS so purchase it according to your need. All you need an email account for signing up. For pricing details, visit https://www.jjspy.com/pricing.html.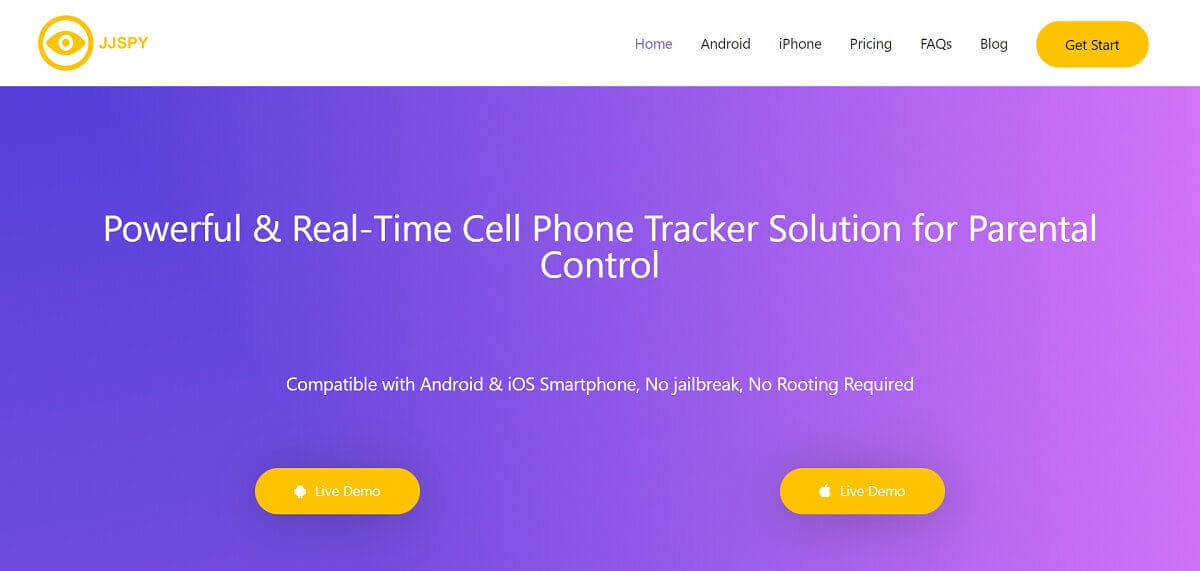 Step 2: App Installation
When you purchase JJSPY, you will receive an email from the JJSPY team. The email contains all installation instructions in detail. So you can easily install this app by following those instructions.
Step 3: Read Text Messages Remotely
After a successful installation, your job ends here. Now, JJSPY will do everything on your behalf. It will take a few minutes to upload the entire data on a remote server. So you can read text messages remotely using sign-in information.
How to Spy and Read Text Messages on Android?
After installing the JJSPY app on the targeted device, follow the instructions below to read text messages on Android:
Go to the official website of JJSPY and login there.
After successful login, you will see a well-organized control panel.
The control panel contains a left menu in which you can see numerous features including Text Messages.
Click on that and all conversation threads will be on the screen!
Now, you can read them one by one by clicking the thread.
If you want to read text messages of other instant messaging apps, click on the App Messaging option.
How to Spy and Read Text Messages on iPhone?
You can read text messages on the iPhone remotely after installing JJSPY. How to spy text messages on the iPhone? Follow the instructions below:
Login to your JJSPY account.
The system will redirect you to an intuitive dashboard.
The dashboard contains all spying features including Text Messages and other instant messaging apps like Line.
Click on the Text Messages option to read entire conversations.
You will see the total number of text messages in each thread!
Why Choose the JJSPY App?
Many reasons stand JJSPY out among all monitoring apps. I am going to talk about the top 5 reasons to choose the JJSPY app. The reasons are as follows:
1. Quality Features
No app even gives a tough competition in features to the JJSPY app. Because it comes with some exclusive features. You will not find these features in any of the competitors' apps.
2. Quick and Easy Setup
The installation process of JJSPY is very easy. The process ends in a few seconds. Above all, you don't need to have technical skills at all. So you imagine, how it is easy to install this app.
3. 24/7 Customer Support
Almost all apps claim to provide 24/7 customer support. In fact, these are just a claim. However, the support is readily available for the JJSPY app. If you contact JJSPY-team even at midnight, you will get a response in no time.
4. Stealth Mode
JJSPY is a spying app that works in a hidden mode. Many spying apps can be detected using different third-party apps. However, it is impossible to detect this app. Because it works in stealth mode. Plus, it doesn't drain your battery and doesn't take much space on the storage. So don't worry at all when using this app!
5. Intuitive User Interface
You don't need to install a software or application to read text messages remotely. All you need to sign in to your JJSPY account. It provides a web-based interface that contains well-organized features. So everything will be available in one click.
Top 5 Spy Text Apps to Read Text Messages
Here is a list of 5 other top spy text apps:
1. Cocospy
It is another useful app that helps you to read messages remotely. Cocospy helps you to track different instant messaging apps like WhatsApp and Messenger. Here are some pros and cons of this app:
Pros
It is a user-friendly interface so users can easily use it without any trouble.
No need for rooting and jailbreak for this app.
It gives you many spying features besides accessing text messages.
You can check the call logs i.e. call duration, incoming and outgoing calls.
Cons
You can't track text messages of all instant messaging apps.
It doesn't contain even a single exclusive feature.
Cocospy is an expensive app based on its provided features.
2. Hoverwatch
Hoverwatch is another popular app that gives you complete access to text messages. It is one of the best spy text messages Android phone apps. You can trace the live location of the targeted person by sitting in your bedroom.
Pros
It maintains the backup of all data so you can read text messages even after deletion.
The app is available at an affordable price.
You can track almost all instant messaging apps using this app.
Cons
It comes with limited call recording features.
Hoverwatch doesn't provide a filter option to filter text messages.
3. Spymaster Pro
It is another versatile app that comes with many spying options. You can't only read text messages on a targeted-device but also hack different social media apps. How? It provides a keylogger feature which is a hacking tool.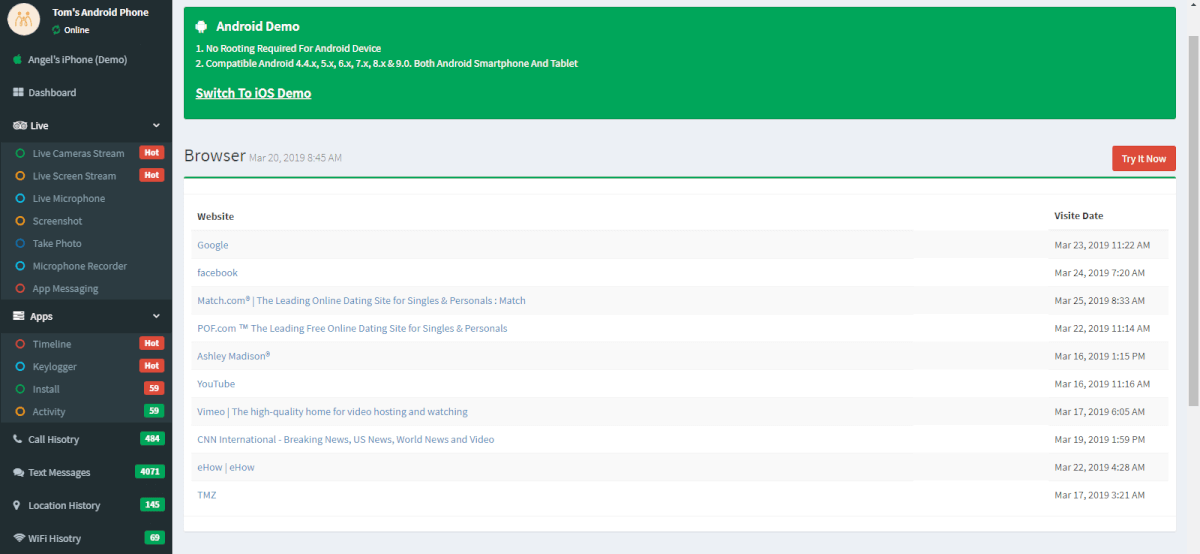 Pros
The app allows you to read Instagram, Snapchat, and WhatsApp messages.
You can watch a demo before purchasing this app.
It also facilitates you to take screenshots of a specific point of conversation.
Cons
The customer support is not readily available.
It doesn't provide advanced options like live screen streaming.
4. mSpy
It is the most robust app that grants you the full excess to all text messages of different instant messaging apps. You can read all text messages by signing into your mSpy account wherever you are.
Pros
It comes with keylogger features that are very helpful for hacking purposes.
You can check complete call logs, browser, and Wi-Fi history.
Cons
You can't record calls and surrounding voice with this app.
It doesn't allow you to intercept calls and block numbers.
5. Snoopza
Snoopza is the best spy text message app for iPhone and Android users. It contains almost 25 spying features including text messages monitoring. Here are some pros and cons of Snoopza:
Pros
You can spy text messages of all popular instant messaging apps.
It comes with the most entice layout.
Cons
There is no demo available before purchasing this app.
Customer support is not up to the mark.
Frequently Asked Questions
What does happen if I use free spy text apps to read text messages?
First, the majority of free apps are spam and a waste of time. Second, some apps steal your precious data and can corrupt the system files. Third, free apps don't provide enough features to read text messages.
What to consider before buying a spy text app?
There are three important things to consider before buying this app i.e. features, price, and ease of use. If you have a good budget, you can go to the expensive options. However, being expensive doesn't always show quality. Therefore, go with an app that must contain all features that you want and within your budget.
Is it legal to use spying apps?
You already know the answer. The negative use of such apps makes them illegal. However, if you are using it for something constructive, their usage is ethical and legal as well.
What if I purchase an app for Android and later on I have to use it on the iPhone?
You can't run an Android-based app on an iPhone. These apps are platform dependent. In this situation, you will have to buy a new copy for the iPhone.
How to uninstall a spying app from a cellphone?
Different applications have different ways to uninstall a spying app. It's better to contact the customer support for proper instructions.