Relationships are based on trust. We often get attracted to the unfaithful and pretentious people. In this way, we end up landing in insecurities and lose our self-esteem.
The advancement in technology has also made it extremely easy to cheat others. If you are doubtful about your boyfriend's honesty and sincerity in your relationship, you should consider using a spying application software. Along with hiding your identity and without his consent, you will be able to clear all your doubts. In this way, you will not be embarrassed and guilty of your insecurities too. Most importantly, it will help you in analyzing that he is the right one for you or not?
In case you want to attain security about your significant ones and the future, there are many spy application for your assistance. Through installing these applications, you will be instantly able to attain access to all the data hidden on the phone. In case, you are suspicious about your boyfriend's social circle, connections, and interaction through his gadget, then these applications are extremely useful.
Consider using the application that is affordable, user-friendly and flexible in order to save you from any awkward situation. Through using this application, you can spy on your spouse, boyfriend or, lover at any time. Initially, you need to access his phone physically to install any of the applications. Consider the application software that provides all the latest update and have all the essential features that can help you in proper checking.
Consider using the JJSPY application available for both Android and IOS users. This highly user-friendly application is on the top among its various competitors. For spying your boyfriend and attaining his phone's data, this application can be extremely helpful. Due to its multiple features such as location access, text message access, and social media checking, you will be able to see the activities of your boyfriend on both online and offline platforms.
How to use JJSPY Monitoring App?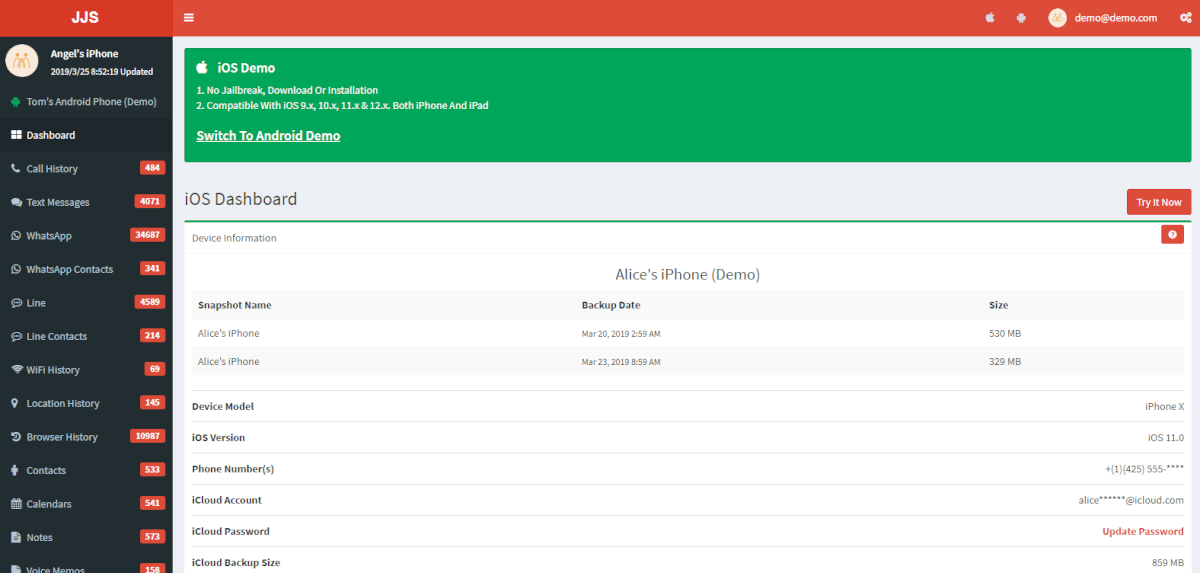 In order to monitor your boyfriend's phone, you need to download the JJSPY application software on the targeted phone. Once, it is downloaded, you have to provide the required information. The application requires basic information to ensure your identity and purpose of usage. Once you provide the information, you will be able to attain all the data from the targeted device. You will get all the information transferred on your control panel. You can even access the information on multiple devices ranging from tablets, PC, android, and IOS. You can access his social media account, browsing details, text messages, location, and connections. In this way, you will be able to reduce your doubts through proper surveillance. As spying your boyfriend can get really embarrassing, this application reduces all your privacy concerns.
Why Choose JJSPY Monitoring App?
Here are some of the features that makeJJSPY the best solution for spying your boyfriend's phone.
Compatibility: JJSPY is one of the leading application software that is compatible with almost all sorts of devices. All the necessary features will readily work on both the Android and IOS devices. There is no need for jailbreakers on this advance monitoring application. The application will support all the interfaces and updates over the devices.
Pricing: Considering the price, this application ensures the value of your money. It provides you a free trial period to analyze the application. In this period, you will be able to understand the features and compatibility of the software. You can try various editions according to your requirements. The monthly charges are extremely budget-friendly considering the need for spying over your boyfriend's device.
Customer services: The customer services provided by this JJSPY application are also extremely reliable. In order to protect you from embarrassment and the awkward situation regarding spying over your boyfriend, the customer services have got your back. The customer services include all the guidance, tutorial, demo version, and comprehensive detail for the new users. In case you are not good with technology, JJSPY customer service providers will address and hear all the concerns of all the valued customers.
Other than that, JJSPY application software offers GPS tracking, monitoring, and geofencing facility to know about the location of your boyfriend. This software allows IM monitoring as well to keep an instant check on various social media applications such as Messenger, Skype, Viber, iMessage, Instagram, and Whatsapp. It also allows you to record the calls and listen to them later. This application also allows you to access the phone 24/7 in order to stay alert regarding any message, contact, location, and interaction. Lastly, this application allows you to view the pictures, emails, browsing history, and bookmarks for all the updates. Looking at all these features, this application is a must-have for spying.
Other Similar Phone Monitoring Software
There are many software applications that can help you in spying over your boyfriend. Here are some of the software that is widely used:
FoneMonitor: Fonemonitor is known for its capability to make spying remote and easy through the professional and user-friendly interface.
iKeyMonitor: This application is known for its compatibility with various devices. It allows the user to attain the current location and keep an eye on every activity of the targeted phone.
XNSPY spy App: This application provides various features and updates to ensure that the user is attaining access to all the data.
Spyzie: Spyzie is another spying application that can be used to monitor all the activities of your boyfriend through checking his online and offline connectivity.
Conclusion
JJSPY is proven as one of the highly updated and user-friendly application software to spy someone. Without even letting the other person know, this application provides all the detail to the user. In the case of relationships that are based on doubt, you should definitely consider the usage of this application. This budget-friendly, easy to use, and accessible over a wide range of geographical region software can truly be a great help. It will not help you in overcoming your doubt, but, it will also improve your love life.